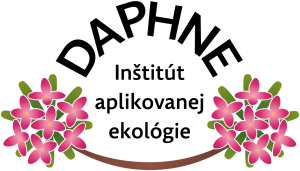 DAPHNE N.G.O.
Institute of applied ecology
DAPHNE was set up in 1993 to protect the environment and education. The team currently consists of 10 people with scientific and education qualifications, and a number of external employees. The Institute's head office is in Bratislava and there is a branch in Banska Štiavnica. Our education work has a particular significance in Slovakia, as the programmes and textbooks have been developed by our experts to show natural circumstances in a local or national context. More than 70,000 pupils and 2300 teachers have participated in the education programmes to date, and 15 methodology handbooks for teachers have been published. Our strong position in the field of eco-education has enabled us to create an innovative educational concept, the "Living Book". It is in line with the official programme for nurseries (ISCED) and was developed for the 6th level of compulsory schooling.
Since the publication of the "Living Book" textbook, the team has devoted itself entirely to training and mentoring for teachers. DAPHNE is a member of the team of experts and is currently working on a new textbook on scientific subjects for junior years.
Daphne has considerable experience of the implementation of cross-border projects in the field of conservation and education, many of which have drawn public attention to the importance of this area.
LIFE10 NAT/SK/083: Regeneration of the Pannonian moors and sand dunes in southern Slovakia; implementation: 09/2011-06/2017
LIFE10 NAT/SK/080: Protection and regeneration of the NATURA 2000 area in the cross-border region of Bratislava, implementation: 01/2012-12/2017
Interreg SK-AT: N00040: AKK Basic – Laying the foundations for an Alpine-Carpathian corridor; implementation: 12/2008-12/2012
Interreg SK-AT: N00054: AKK Centrope – Implementation of measures along the Alpine-Carpathian corridor and implementation in the Centrope region; implementation: 09/2009-12/2012
LIFE08 INF/SK/000243: Raising public awareness of the importance of water for life, of its protection and of its sustainable use in accordance with the Water Framework Directive; implementation: 01/2010-12/2013
PP-2013-008: Banská Štiavnica - A Living History Book; implementation: 05/2013-02/2015